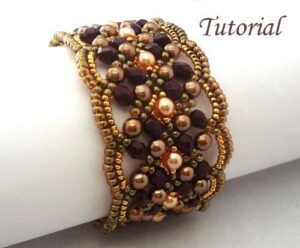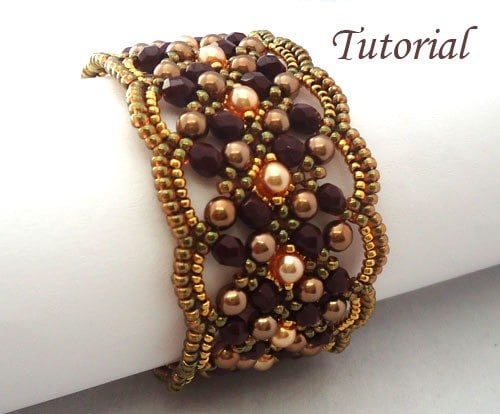 Maroon bracelet beaded by my Beading Friends
Can you wish for better reviews, than when your beadings friends are sending you the pictures of the finished beadwork, what they made using my tutorial. Here are the photos of Maroon bracelet, beaded by my beading friends.
Maroon bracelet is one of the most popular tutorial in my whole collection.
When I see (for the xxx time) all the creations, I am still impressed, proud and inspired by the work of all my international beading friends.
It is really amazing when you look at color combinations and variations!
And some written reviews…
Someone posted a picture of a bracelet made from this tutorial . . . I just had to have it!
Easy Download. Beautiful. I'm still collecting all the material. Looks challenging, but it seems a great tutorial with helpful pictures. The pattern and illustrations are quite clear.
OMG!! This bracelet is beautiful! The directions have to be the best I have ever seen!! Thank you SO much!!
Love this tutorial! Just a gorgeous bracelet! Directions are so easy to follow! I will definitely buy from Ellad2 again!
I am now beading this lovely bracelet, it is so nice can't wait to finish it and show it of, I am using similar colours and Love it.
Martine Veillette Mar 15, 2016
really like the look. Good instructions but the fringe is a little tricky. Needs a little practice to make sure the tension is even
Melanie Holowachuk Mar 14, 2019
Reviewed by Anonymous Mar 25, 2013
Received tutorial very quickly. It is very detailed with zoomed-in color photos. The design is beautiful! I'm very happy with this purchase and would definitely buy from this seller again.
Perfect tutorial! Thanks a lot! Greetings from Austria.
Great pattern!
Very good tutorial. Easy to follow. Bracelet looks elegant!
Great easy to follow instructions!
Linda Skander – Apr 1, 2014
⭐⭐⭐⭐⭐
This is just so elegant looking! Thanks to a great designer and seller!
mirandagdesignscom – Nov 18, 2014
⭐⭐⭐⭐⭐
One of my most favorite Etsy purchases ever!
Great tutorial! Very well explained! Thank you!
Very clear instructions, beautiful results!
Rachael Guthrie Sep 23, 2014
⭐⭐⭐⭐⭐
I love all of Ellad2's patterns! Always a pleasure doing business with you, and the patterns are so simple to follow along!
Ann Weber Aug 4, 2015
⭐⭐⭐⭐⭐
Wonderful, detailed tutorial – as always! Thank you!
Love this pattern, have coveted it for ages, easy to follow and highly recommended, pattern and artist xx
Use this link for the Beading Tutorial Maroon Bracelet
Please let me know:
– If you want your photo linked to your blog, site or shop;
– or you don't want your photos on my site.
Sometimes I have to modify the size of the photo otherwise it will not fit on the screen.
Thank you very much for all your sharing, inspiration and support