Milena necklace
Is my entry piece for Batle of the Beadsmith. This is my first competition in which I have took a part…
Milena is my mother's name and I thought this is also a nice opportunity to say THANK YOU to her for all what she has done for me till now (especially because this is my first entrance in any competition).
She used to say that she doesn't understand what I am doing 🙂 and that is not only about jewelry what I make, but also about sailing and my way of life.
Milena necklace is made with Swarovksi rivolis 18, 16 and 14mm, Swarovski bicones 3 and 4mm, Miyuki seed beads and Miyuki Delica beads. It's combination of peyote stitch, herringbone stitch, netting, cubic RAW…
All rivolis are bezel with cubic RAW and peyote stitch and embellished with Swarovski bicones and Miyuki beads. Necklace is made in Herringbone stitch and finally the central part is combination of netting, peyote stitch and Cubic RAW.
I connected Russian leaves using netting and I have to admit, I like that part the most 🙂 Russian leaves are made in different shades, from darkest to lightest  Delica  (Duracoat gold Delica beads). Shades transition is not so visible at the photos, but that is the best what I could make on a day before the dead line. It was raining all the time. So, in the moment of a little bit sun, I did what I did 🙂
As I am not so good in 'descriptions' and because I think a picture is worth a thousand words, here is my entrance:
Front side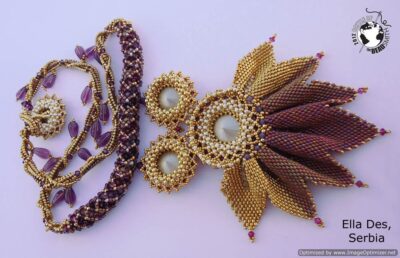 Back side
 Detail
Clasp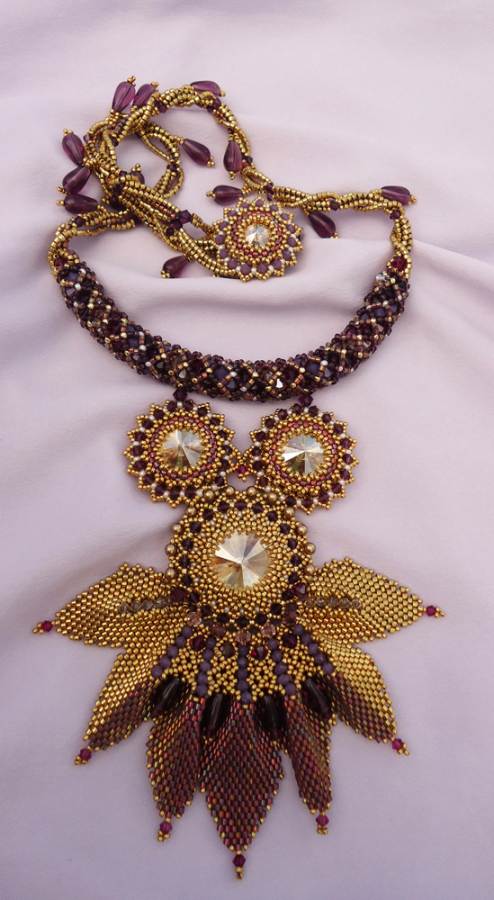 Fifth photo